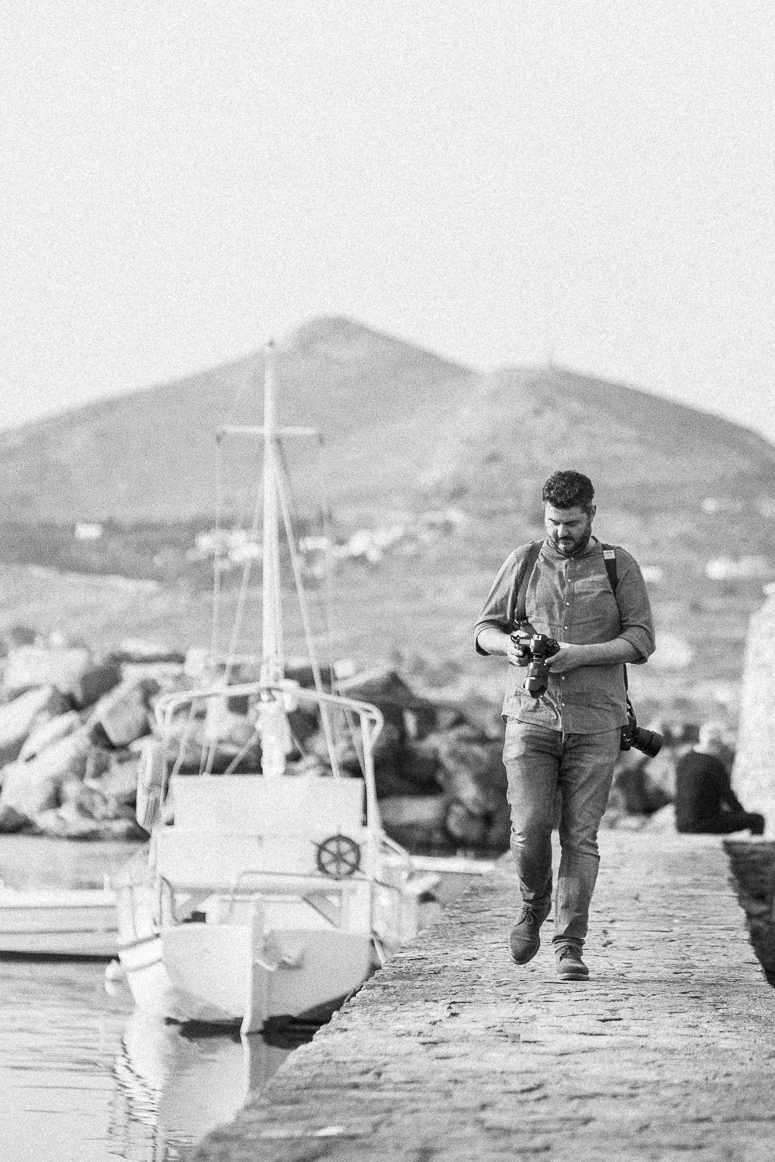 I'm Apostolis...
...a wedding photographer based in Athens, Greece, who previously worked as a photojournalist (including war zone photography). My experience has made me realize what an important role emotions play in photography! I'm always striving to create a story in every image, one told through emotion, movement, and most importantly, the connection between two people in love.
In my 21-year career I had the pleasure of covering hundreds of weddings with couples from across the globe. From my perspective, the photos that truly stand out are the ones capturing true feelings. Whether it is joy, anxiety, excitement or surprise, an emotion captured unfiltered on camera makes a photo priceless! My top priority is to build an intimacy to first understand who my clients truly are. Apart from being a professional, I want them to think of me as a friend who will encourage them to live their wedding day to the fullest.
Things you need to know about me:
1) I'm a big fan of movies (The Shawshank Redemption is a true Masterpiece!)
2) My old vinyl records always play in the background when I 'm editing and picking up a wedding's best captures.
3) I love natural light photography. So, be prepared for some awesome outdoor portraits, with the breathtaking view of a Greek landscape shimmering in the background.
"...I want to really know people before I take their photographs; to have an intimacy with them. Know what they are thinking, their feelings. That is the only way to capture their deeply personal moments, in other words the wonderful human condition..."
Testimonials
Before our wedding I was bit worried because I did not know what to expect from photographers. With Apostolis our fears vanished and only the best memories stayed; memories of a perfect wedding and of a true professional who is also a great man. The day of our wedding not only did he take amazing pictures but he also respected our personal moments. He was always ready and willing to help and his presence created a sense of tranquillity. The post-wedding shooting was amazing since Apostolis made everything possible to adapt to our schedule and his willingness had not got reduced a bit; he was the same smiling person and the photos he presented us were wonderful. Thank you Apostolis!!
Our experience with Apostolis was amazing! He listened to us, what we like as people and took beautiful pictures of our wedding and the baptism of our son. He captured the vibe and the atmosphere. We highly recommend him!
Fantastic man! Gave us the most incredible memories that will live with us forever. He made our day extra special. Since the first meeting we have been impressed by his courtesy and his high professionalism.
And then the photos are fantastic. Incredible lights and colors. Our expectations, even if very high, have been satisfied and finally the results are really fantastic.
Thank you for everything Apostolos! We have the perfect photos from our wedding that will accompany us throughout our lives. Very artistic and in a very nice album that tells our story beautifully! Amazing!
Flawless professional and an awesome person...!
I feel really excited because I can see the happiest moments of my life imprinted in the best way. His work and professionalism really exceeded our expectations. The images we received after our wedding are incredibly beautiful and feels fantastic to see them and remember the most amazing day of our lives! We definitely recommend Apostolis to be your wedding photographer!
Apostolis is an amazing photographer! He is truly professional but at the same time very relaxed, so he will make you feel comfortable and enjoy the overall experience!
Apostolis was the perfect choice for the most beautiful day of our lives, our wedding day! He absolutely captured our most wonderful moments, and the photos of that fantastic quality tell the story much better than words! We highly recommend him. Professionalism, attention to detail and a remarkable personality.
Highly recommended! Apostolis' genuine personality, professionalism and unique artistic perception all combine to produce the best end results. I honestly didn't believe our wedding photos could have been so amazing! In addition, he remained calm throughout the big day and was my point of reference whenever I needed reassurance. We would choose him to be our wedding photographer a thousand times over!
Every photo tells a story, and Apostolis photos are memories that last forever! He is amazing to work with, a very pleasant person to be around and a great professional! I highly recommend him and his team, and I look forward to our next photo-shooting!